Страница: 5/10
THE BLUE MOUNTAINS
The Blue Mountains rise from the coastal plains about 65 kilometres west of Sydney. They are composed of sandstone deposited over 170 million years ago that was then pushed up to form a plateau which was subsequently eroded by wind, rain and water leaving spectacular gorges, pinnacles and cliffs. The highest point is about 1100 meters above sea level.
The towering cliffs of these mountains presented a seemly impassable barrier to early european settlers. Even today most parts are only accessible to experienced bushwalkers.
WHY ARE THEY SO BLUE?
The Blue Mountains are covered with eucalyptus trees which constantly release very fine droplets of oil into the atmosphere. These droplets cause the blue light-rays from the sun to be scattered more effectively (knows as Rayliegh Scattering) making the whole area look bluer.
Strine - Australian Slang
Australian Strine consists of words and phrases which:
· have different meanings from other English (like American English or British English),
· we have made up ourselves or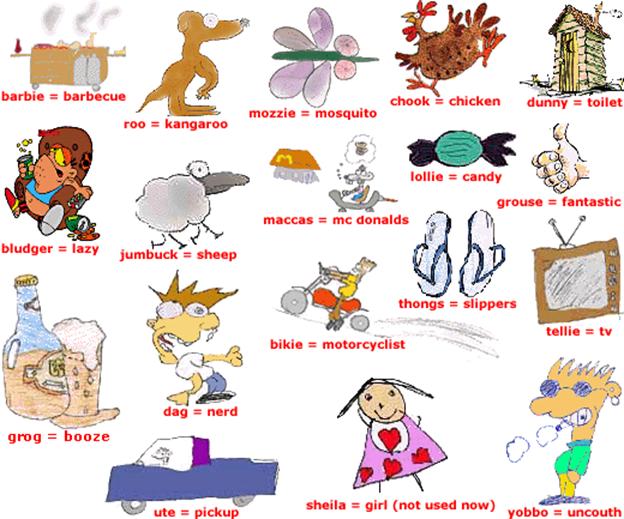 · we have borrowed from Aborigine words or from slang used by early settlers.
The Dandenongs
The Dandenong Ranges are located approximately 40 kilometers from Melbourne, Victoria, Australia.
HEALESVILLE SANCTUARY
The Healesville Sanctuary is a place where you can see Australian native animals in natural bushland surroundings. The sanctuary also carries out research and breeding programs for many endangered animals.
There is a real cool Koala enclosure, platypus tank and snake pit too.
Here is the official web site for the Healesville Sanctuary The Exhibits page is very good.
PUFFING BILLY RAILWAY
It is great fun riding the Puffing Billy Railway as it weaves its way up the mountains. We even get to sit on the windowsills and dangle our legs out the windows. If you look closely you can see some people doing just that. Because its a stream train you get coal dust in your eyes and on your clothes.
When the weather is really dry and there is a danger of bushfires the Puffing Billy 's steam engine isn't used. That's because a spark from its steam engine could start a bushfire. They use a diesel engine instead.
Here is the official web site for the Puffing Billy Railway .
TULIP FESTIVAL
Every year thousands of visitors come to see the tulips at the Tesselaar Tulip farm in Silvan.
There are many other gardens in the Dandenongs too.
UPPER BEACONSFIELD
Upper Beaconsfield is located 53 kms (33 miles) south-east of Melbourne in the Dandenong Ranges on the southern foothills of the Great Dividing Range.
Upper Beaconsfield retains much of its rural heritage and atmosphere with tree lined streets, varied eucalyptus forests, wet-lands, fern gullies and secluded creeks.
THE GREAT OCEAN ROAD
The Great Ocean Road starts at Torquay (about 100kms from Melbourne) and winds its way for 180 kms along the south-western coast of Victoria , Australia.
It is one of the most spectacular coastal drives in the world. It winds its ways around ragged cliffs, windswept beaches, and tall buffs and passes through lush mountain rainforest and towering eucalyptus.
The Great Ocean Road was started in 1918 and completed during the Great Depression as a public works project to give returned soldiers and unemployed people work.
Some of the sights along the way are: Bells Beach - a great place to go surfing and where the Bells Surfing Classic is held each Easter. Shipwreck Coast - where the wrecks of over 80 ships lie on the ocean floor. Many ships carrying immigrants to the gold fields of Victoria floundered in the treacherous seas. Lorne - a popular sea side resort in Apollo Bay. Port Campbell National Park - One of the most photographed sections of the road where shear golden limestone cliffs and rock formations withstand the buffeting of fierce seas. Twelve Apostles - (there are only 10 left!) London Bridge (This is what it looked like before one of its spans collapsed) Loch Ard Gorge - where in 1878 the clipper Loch Ard was driven into rocks during a storm with the loss of 52 lives. Otway National Park Port Fairy - a well preserved fishing village which was settled by sealers and whalers back in the 1820s.
Реферат опубликован: 23/05/2009