Страница: 3/5
And to the wonder of all present, the reformed shrewish lady spoke about duty of obedience wife, as she had practiced it implicitly in a ready submission to Petruchio's will. And Katharine became famous in Padua, not as Katharine the Shrew, but as Katharine the most obedient and duteous wife in Padua.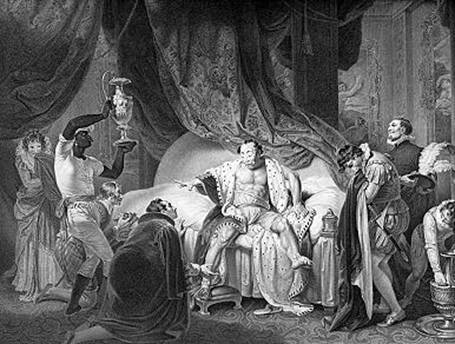 My opinion.
"The Taming of the Shrew " is one of the earliest comedies of Shakespeare.
I like this comedy very much. It is evident, that it was written by a young, cheerful man.
It is the real comedy, which is full of lively situations and funny dialogues. It is very pleasant to recollect my first sensation from the scene 5 (the 4-th act), where Катарина and Petruchio came back to Baptista's home for a wedding feast. It seems to me that I could not stop laughing in a loud voice for a very long time.
The action in a comedy develops very dynamically. There are no long and dull dialogues, unnecessary scenes and events. Everything is written so alive, that if there are separate moralizing scenes, they do not irritate.
Petruchio is the typical representative of his time - courageous, free from prejudices, full of force and energy. He thirsts for struggle, success, riches, female love - and meets worthy opponent, she is Katharine. In her image Shakespeare had represented traditional type of the quarrelsome woman from the medieval stories, but nevertheless he relieved her from unpleasant features. She as well as Petruchio, causes the large sympathy. And Katharine, giving way to Petruchio, still remains his worthy opponent. Even it is difficult to understand, who from them will be the leader in their further joint life.
One can consider the play as protection of a medieval principle of unconditional submission of the woman to the man, or as a hymn to courageous, beautiful and clever woman. But I think it is more correct to consider it simply as a joke.
So this play is fine seen both at theatre, and in cinema. And I think it very pleasant to the directors to put, to the actors to play and to the spectators to watch it.
Examples of the Language.
PETRUCHIO Come on, I' God's name; once more toward our father's. Good Lord, how bright and goodly shines the moon!
KATHARINA The moon! The sun: it is not moonlight now.
PETRUCHIO I say it is the moon that shines so bright.
KATHARINA I know it is the sun that shines so bright.
PETRUCHIO Now, by my mother's son, and that's myself, It shall be moon, or star, or what I list, Or ere I journey to your father's house. Go on, and fetch our horses back again. Evermore cross'd and cross'd; nothing but cross'd!
KATHARINA Forward, I pray, since we have come so far, And be it moon, or sun, or what you please: An if you please to call it a rush-candle, Henceforth I vow it shall be so for me.
PETRUCHIO I say it is the moon.
KATHARINA I know it is the moon.
PETRUCHIO Nay, then you lie: it is the blessed sun.
KATHARINA Then, God be bless'd, it is the blessed sun: But sun it is not, when you say it is not; And the moon changes even as your mind. What you will have it named, even that it is; And so it shall be so for Katharina.
PETRUCHIO Well, forward, forward! Thus the bowl should run, And not unluckily against the bias. But, soft! company is coming here.
Vincentio enters
Good morrow, gentle mistress: where away? Tell me, sweet Kate, and tell me truly too, Hast thou beheld a fresher gentlewoman?
ПЕТРУЧЧО Живей, живей, - ведь едим мы к отцу.
О боже, как луна сияет ярко!
Реферат опубликован: 16/12/2007